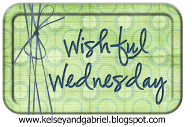 Kelsey, at The Seattle Smith's, topic for Wishful Wednesday is:
'I wish'… I had the startup funds to build that company I have always dreamt about, and it would be _____!
Hmm… this is a good one, and it reminds me of my dad because he's always encouraging me to do random things like take singing lessons (I can take a hint!), learn another language, and start my own business. And when do you think I'd have time do all this, Dad??! Any way… I would probably start my own swim lesson business. I'm a certified Water Safety Instructor, as well as a lifeguard. I have worked as a lifeguard every summer since I was sixteen, and have been teaching private swim lessons since I was seventeen. I've taught as young as nine months, up to eight years. I also coached kids for swim team. Before I moved this year, I was teaching at the summer camp I attended as a kid! In addition to teaching at the camp, I taught private lessons on the side. I realized that's where the money's at! At the camp, I only made a fraction of the price parent's paid for the lesson, whereas when I worked on the side, I made all the money. It was great, too, because the parents would tell their friends and I'd receive more clients. I was actually starting to turn people down because I just didn't have enough time!
Who knows, maybe when I'm a little older, I'll own a house with a (heated) pool and start my own swim lesson business.
Having a little underwater fun—I love my underwater camera! Once the child knew how to swim safely and comfortably, I would take pictures of him or her for the parents as a little "End of the Lesson" gift:
What company would you want to start?
If you want in on the Wishful Wednesdays fun, hop on over to Kelsey's blog at The Seattle Smith's.
Please follow and like us: