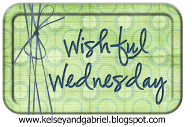 'I wish'… I could spend three minutes in _______'s shoes!
Originally I was thinking I would want to spend three minutes in my mom or B's shoes, so I can see what I'm like from their perspective, but heck! I'd want to have some Taylor-Swift-FUN!
Oh, and another thing… I wouldn't want to spend just three minutes; I'd want to spend at least
3 days
. She looks like she's always having a blast. From rocking out on stage in sparkly dresses
(adore)
and cowboy boots
(adore even more)
, to baking cookies with her best friends, and goofing around in panda shirts… She's always handling herself with such poise and positivity (remember
the jerk
Kanye?) It's rare these days to find a celebrity that young girls can look up to.
One more thing… I just love her hair!! Wouldn't mind being able to keep it when I come back to reality.
P.S. I can't wait to go see her in concert (again!) in March with my best friend and boyfriend!
If you want in on the Wishful Wednesdays fun, hop on over to Kelsey's blog at
The Seattle Smith's